At GreaterGood, we do our best to raise awareness of good causes and to connect people every day with simple ways to make the world a better place. It is our charitable partners who do the heavy lifting; the ones who use the funds and supplies that your daily clicks and your shopping raise to accomplish the mission.
Funding for all charitable projects and partners is distributed by Greater Good Charities. Since GreaterGood began in 1999, we have given more than $80 million to charities operating here and around the world.
Greater Good Charities
Greater Good Charities
Grants funded by The Alzheimer's Site are paid by Greater Good Charities to charities and non-profit organizations working toward better treatments for Alzheimer's. Clicking and shopping at The Alzheimer's Site helps support grants for the following charitable partner:
University of Michigan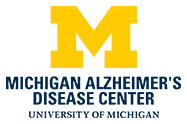 http://alzheimers.med.umich.edu/
The University of Michigan will be leading an expert team of diabetes, neuroscience, and imaging specialist, to better understand the mechanisms by which diabetes contributes to cognitive decline and dementia and, through this increased understanding, identify the best path forward to modify treatable risk factors for dementia. Through their studies and your help in supporting their research, they hope to collect and interpret the data and results they obtain to assemble a publication they will submit as a highly competitive application for a major NIH research grant to extend their studies, bringing them closer to a solution for Alzheimer's.